New Musical Resources
May 5 2023


Artwork – Lara Karadogan
New Musical Resources is an ode to music technology, the last exploration and exhaustion of digital computation and synthesis within my current modular setup, All sounds were created and sampled using the ER301 Sound computer, Monome Teletype and Disting EX. These modules limited me to their computational ability, driving the release to a specific sound, and a specific timing index.
---
Supreme Magic Center Dot
by wetness
January 6 2023




Album art by Andi Szurley


---
QGIS
by wetness
November 4 2022


Wetness is analog wooden texture. This release is the debut album for wetness. Wetness is an exploration of analog feedback focused wooden instruments designed by me, CrucFX, Peter Blasser of Ciat Lonbarde and other wooden synth esoterica enthusiasts. The focus of these tracks are the organic textures that come from feedback and solar interaction. Sampling sometimes plays an important part in this work, the systems create the composiion. Ode to banana cables.

See Instruments

---
Cyb Sym Int Cav Dov
Aug 5 2022


Artwork – Owen McCallum-Keller
This release is a collection and exploration of patches exploring recent themes of the internet through various analog and digital synthesis techniques.
---
Data Bird
May 6, 2022


Artwork – Yuka A Tamura
Data Bird is the story of data exploring the internet. This release is an exploration of digital granular synthesis using samples, personal techniques and programs such as SoundGrain. All bird sounds were made with analog feedback paths made with custom instrumentation, a precursor to later explorations of analog feedback paths for non linear composition and generative conversations in later work.
---
Binary 16 Inches Deep Web
September 3 2021


Artwork – Nicole Strubinski
This release is the first exploration of creative computation within my music using the Monome Teletype eurorack module. I start to explore themes and ideas of early internet, porn and the electronic aucustic overlap. Overly compressing and filling all space, sadnoise explores its maximalist ideology.
---
Hyperencoder
June 4 2021


Artwork – Hannah-Rose Albinus
This release is a compilation of generative work composed in 3rd order ambisonics for the class Spatial Audio at Rhode Island School of Design during the spring semester of 2021. This work explores themes of abstract architecture, maximalism and impossible acoustics, physically morphing the boundries of the listener environment and reflective proporties of the space. These Tracks were originally recorded as 24 channel audio at the Studio for Sound in Research and Technology (SRST). All Sounds were made with SuperCollider, the Serge modular synthesizer, my personal eurorack synthesizers, the Elektron Octatrack sampler, and IEM spatialization and ambisonics VST plugins, with modulation from Korg Microcontroller and Reaper.
---


Sound Synthesis For Synthetic Fibers
April 1 2021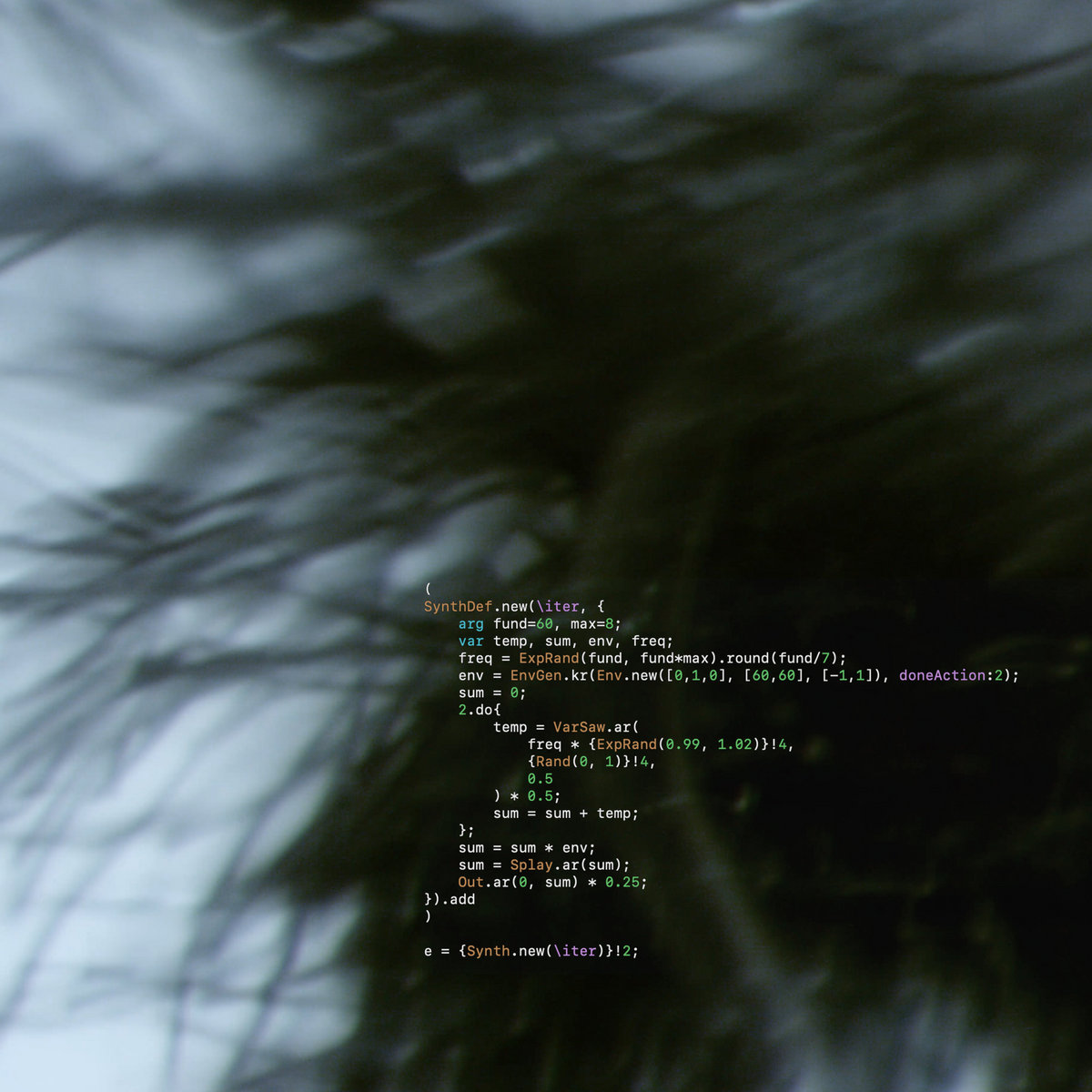 All sounds made with SuperCollider and the Serge Modular Synthesizer at Rhode Island School of Design. This Release is a collection of work from the class Sound Synthesis taught by Mark Cetilia.